Family Newsletter Message Board

Here's a place to post your thoughts on family newsletter publishing--your questions, your ideas, your plans. We can all learn from what you have to tell us about your family's newsletter. Go ahead and post!

And remember--for lots of fun ideas for improving your family newsletter, read ABSOLUTELY FAMILY!--A GUIDE TO EDITING AND PUBLISHING A FAMILY NEWSLETTER.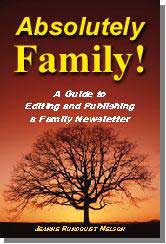 The Genealogy Register